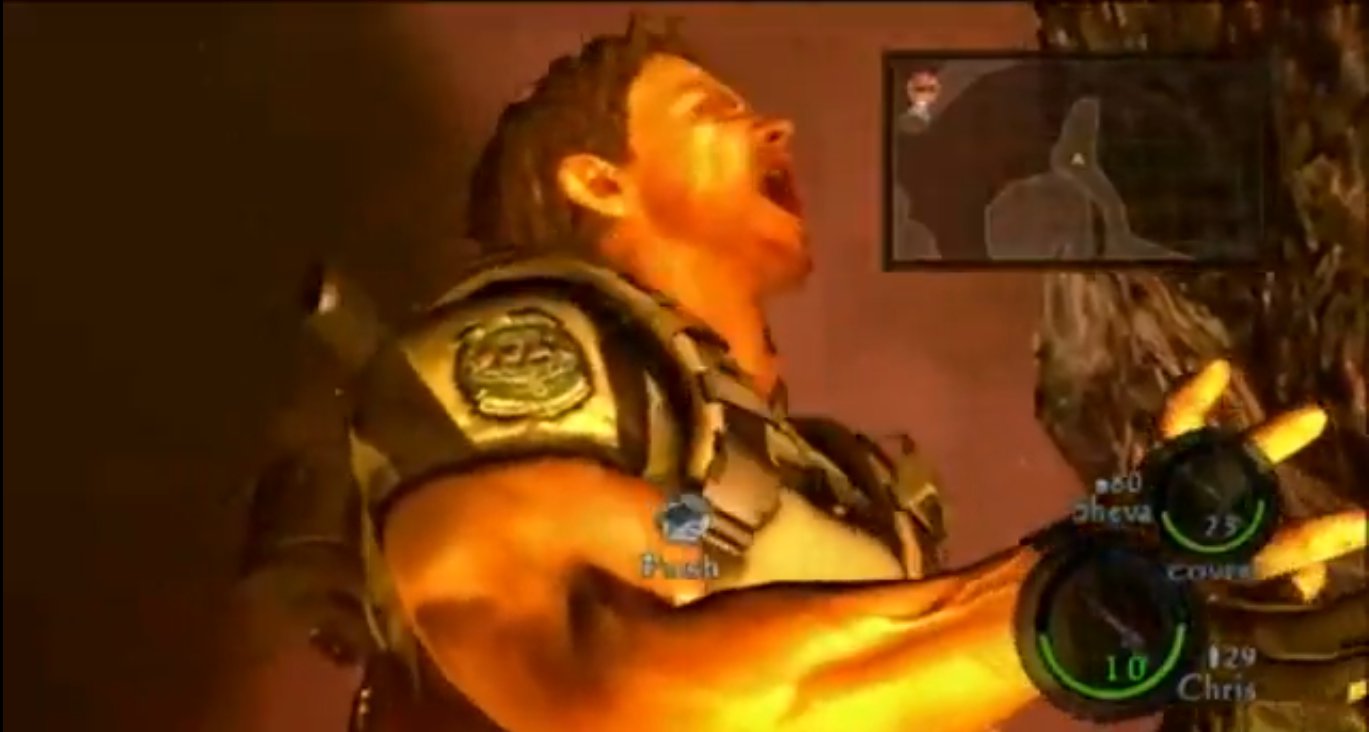 Do you even lift, Chris?
Chris Redfield Quick Navigation Links:
Character Breakdown: Chris Redfield
The Chris Redfield Workout
The Skills of Chris Redfield
The Humanity of Chris Redfield
Chris Redfield is a pretty big dude.  In fact, I'd put him in the same category as Duke Nukem and Donkey Kong.  As such, you're going to want to stick to The Big Guy Diet, and maintain a caloric surplus if you want to gain muscle.  If you haven't watched my vlog on nutrition, you should go check that out now.  Seriously, go watch, I'll wait.
If this workout looks familiar, it's because it's a bit similar to Duke Nukem.  However, it features a bit more hypertrophy, for faster muscle grown(Duke's actually a little leaner than Chris), and some plyometrics/high intensity conditioning, for when you really need to punch a boulder into submission while battling giant mutant zombies in an active volcano.  Make sure you warm up before exercising, get plenty of rest, and eat well when on this routine.
Equipment:
Weight bench
Squat rack
Barbell with weight plates
Dumbells with weight plates
Note: All of these exercises should be performed at a weight that's about 85% of your One Rep Max(1RM).  Your one rep max is how much weight you can do the prescribed exercise with one time.  Do one set apiece for each exercise, rest for two minutes, and then get back into it.  If you can't get full range of motion on the exercise, lighten up your weight a bit.  Obviously, as you get stronger, you want to add more weight on, in three to five pound increments.
Strength Workout A(chest and push):
4×8 Bench Press(barbell or dumbells)
4×8 Incline Bench Press(barbell or dumbells)
4×8 Military Press(barbell or dumbells)
4×8 Triceps Extension(dumbells)
4×8 Butterfly curls

Strength Workout B(back and pull):
4×6 Straight Legged Deadlifts(barbell or dumbells)
4×8 Bent-over Row(barbell or dumbells)
4×8 Lat pull-downs OR weighted pullups
4×8 Shoulder Shrugs(dumbells)
4×8 Bicep Curls(dumbells)
Strength Workout C(legs and core):
4×8 Back Squat(barbell and squat rack)
4×8 Hamstring Curls
4×8 Standing Calf Raise(dumbells)
4×8 Trunk Twists(weight plate)
4×8 Oblique Side Bends(dumbell, ten times each side)
Cardio Workout:
Run in place as fast as you can(high knees), or sprint as fast as you can, for thirty seconds.  Rest for ten seconds.  Punch as fast as you can(either shadowboxing, or, preferably, on a heavy bag) for thirty seconds, rest for ten.  Repeat this pair 3-7 more times(as you are able).
Schedule:
Day 1: Strength Workout A & Cardio
Day 2: Strength Workout B
Day 3: Rest
Day 4: Strength Workout C
Day 5: Strength Workout A
Day 6: Strength Workout B & Cardio
Day 7: Rest
Thanks for reading, that's all for today!  Don't forget to like us on Facebook, and follow on Twitter and Tumblr.  While you're at it, if you enjoyed this post, please share/retweet it to your friends!  Tomorrow we continue with The Skills of Chris Redfield.  Until then, remember to live boldly, change the world, and continue to be awesome.
Dan "DaRatmastah" Wallace