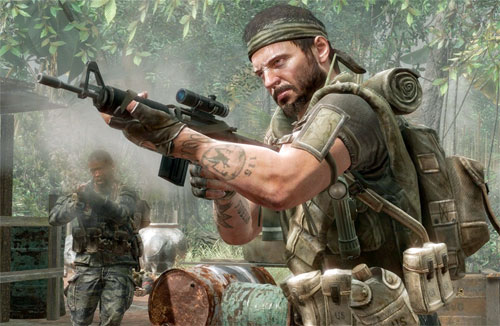 Alex Mason Quick Navigation Links:
Character Breakdown: Alex Mason
The Alex Mason Workout
The Skills of Alex Mason
The Mind of Alex Mason
So we've covered military-style fitness before, with The Commander Shepard Workout, but we're going to be taking a slightly different approach here.  Shepard is all about meeting standard fitness test requirements.  Mason's a special agent, and most likely shoots for goals besides just hitting fitness standards, so we're going to move a bit more into some weight training, as well as "rucking," forced marches with weight on your back.
Remember, make sure you always warm up before exercising!  I did a video tutorial on how to warm up properly, so check it out!
Equipment Needed:
Adjustable Dumbbell Set
Chinup Bar(referral link)
Sturdy Backpack(I use this army surplus bag[referral link])
Shoes or Boots with good support
Workout Schedule:
Day 1: Strength Workout A
Day 2: Cardio Workout A
Day 3: Rest
Day 4: Strength Workout B
Day 5: Cardio Workout B
Day 6: Rest
Day 7: Ruck
Strength Workout A:
5×5-25 Bodyweight Squats
5×5-25 Pushups(start with progressions if necessary, check out the video link)
5×10-50 Situps
5×5-25 Pullups(overhand grip)(start with bodyweight rows or chair-assisted pullups if you can't quite get the full pullup yet)
Notes: Make sure you get the prescribed number of sets in, even if you have  to lower the reps below the required amount or modify the workout.  Slowly ramp up the number of reps you can bang out.  Once you hit the target high number, start doing them for speed, and continue to ramp the reps up if you feel the need.
Strength Workout B:
5×5-8 Overhead Press(with dumbbell)
5×5-8 Butterfly Curls
5×5-8 One-armed Rows
5×5-8 Goblet Squats
Notes: You should be using about 70% of your one-rep max (the most you can lift just one time) weight for these exercises.  So, if the most you can push over your head with the overhead press is 30 pounds in each hand, then you should be doing this exercise with 21 pounds on your overhead press.  Start super low if you need to, I'd rather you get in the prescribed reps and sets than push yourself too hard and not complete the workout.  Slowly ramp your weight up in two or five pound increments whenever you're able.
Cardio Workout A:
20 Jumping Jacks
5 Burpees(with pushup in the middle, and jump at the end)
Repeat
Notes: Just do this cycle as many times as you can.  Twenty minutes straight is a good initial goal to shoot for, and it will probably take you a while to get there.  Just do the best you can, and realize this will probably kick the crap out of you.  =)
Cardio Workout B:
30-60 Minutes Walk/Run
Notes: If you're just starting out, just walk briskly for half an hour.  Slowly add in jogging increments, starting at one minute of jogging for every nine minutes of walking.  Once you're jogging for the full half hour, start increasing your time.  Once you're running for a full hour, start trying to increase your speed.  Shoot for seven miles in an hour.  If you hit there, you're at a pretty damn good level of fitness.
Ruck Workout:
1-3 mile ruck march with 10-50 lbs on your back
Notes: Rucking is very taxing on your body, so we're only going to be doing it once a week, and we're starting at a low weight.  Throw your backpack on, and load it up with ten pounds.  Shoot for a mile for your first workout, and even if you feel like you could do more, finish it there.  You're probably going to be way more sore than you were expecting the next day.  Don't run with weight on your back.  You stand a very good chance of damaging your joints this way.  Just walk briskly, with small steps.  Also, wear sturdy, supportive shoes, like a good set of boots with maybe some arch-supporting in-soles.  Ramp up your distance first.  Once you're doing three miles with ten pounds, start to up the weight, five pounds at a time.  Take it slow, and don't hurt yourself.
So that's our Alex Mason workout.  Tomorrow we move on to The Skills of Alex Mason.  Until then, remember to live boldly, change the world, and continue to be awesome.
Dan "DaRatmastah" Wallace