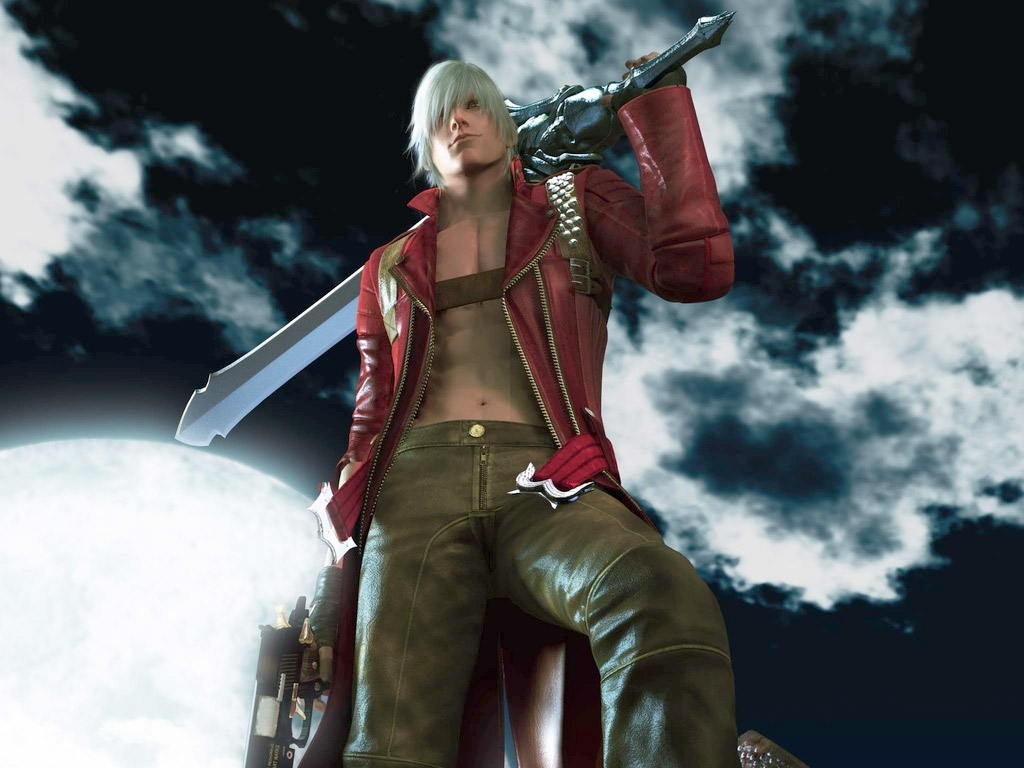 Dante Quick Navigation Links:
Character Breakdown: Dante
The Dante Workout
The Skills of Dante
The Flair of Dante
Dante is a seriously built dude.  He's got good sized muscles, demonic strength, and combat proficiency to boot.  We're going to be taking a page out of Sephiroth's book in our workout, with a similar structure.   As such, we're going to be making use of free weights, so if you can get your hands on a set, or get a gym membership somewhere, it would be well worth your time.  If free weights aren't an option, you can substitute weighted sandbags from the Kratos workout.
I'd recommend going with The Fighter Diet for this one.  Also, make sure you warm up properly before engaging in any any of these routines.  It'll increase your output, and decrease chance of injury.   Also, please remember to take this workout program slowly.  We're trying to build the power and ferocity of Dante, so it's a pretty intense program.  Start with low weights, listen to your body, and don't be afraid to take an extra rest day.
Also, make sure you always warm up before exercising!  I did a video tutorial on how to warm up properly, so check it out!
Equipment Needed:Weight Set & Bench
Dumbells
Squat Rack
Strength Workout A:
5×5-8 Bench Press
5×5-8 Overhead Press
5×5-8 Deadlift
3×15-25 Russian Twists
Strength Workout B:
5×5-8 Tricep Curls
5×5-8 Bicep Curls
5×5-8 Back Squats
3×15-25 Bicycle Crunches
Strength Workout C:
5×5-8 Straight-leg Deadlifts
5×5-8 Hamstring Curls
5×5-8 Back Squats
3×20-30 Second Leg Lifts
Cardio Workout A:
Tabata Interval Sprints:  Run as fast as you can for twenty seconds.  Rest for ten seconds.  Repeat for a total of four minutes(8 intervals)

Cardio Workout B:
Burpee Intervals: Do a burpee!  Jump in the air, squat down, pop your legs out into a pushup position, do one pushup, pop your legs back up under you, and jump!  Now do twenty jumping jacks.  Then do two burpees!  Continue this pattern, adding on a burpee every time, until you get up to five burpees.  Once you can do this, start adding more burpee intervals, again, adding a burpee every time.
Schedule:
Day 1: Strength Workout A
Day 2: Cardio Workout A
Day 3: Strength Workout B
Day 4: Rest
Day 5: Strength Workout C
Day 6: Cardio Workout B
Day 7: Rest
Again. I can't stress this enough, start at low weights, and take it slowly.    This is a great all-around strength training program and you will become very strong if you follow it, but not if you injure yourself in the first week and have to spend months recovering.
Alrighty, that's all for today!  I'd like to say welcome to all our new readers from The Legend of Zelda Subreddit!  You guys broke the blog's daily viewership record two days in a row!  Woohoo!  Tomorrow we'll be continuing with The Skills of Dante.  Until then, remember to live boldly, change the world, and continue to be awesome.
Dan "DaRatmastah" Wallace