Discuss this post in The Guild Hall!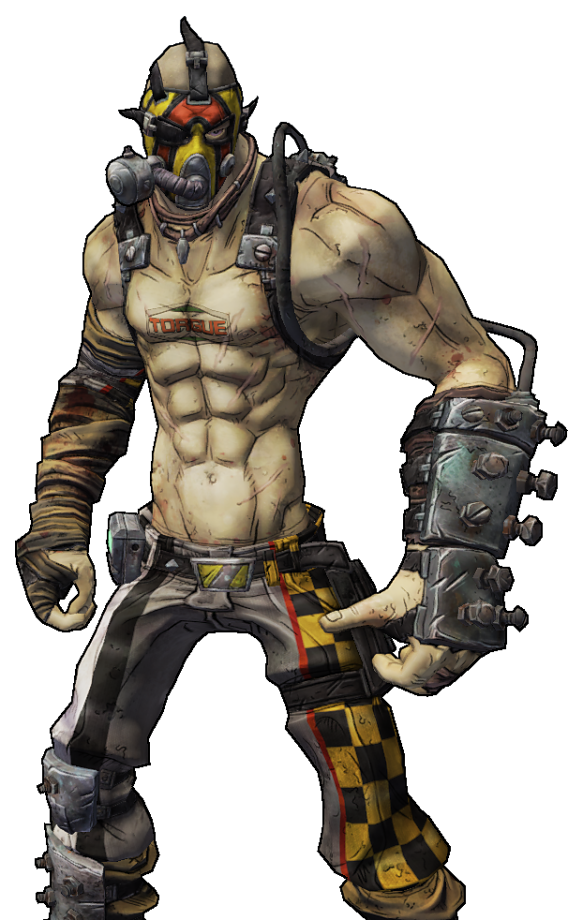 So, when we look at Krieg, a few defining features stand out.  First and foremost, his shoulders.  They're huge, especially compared to the rest of his bodily proportions.  His lower torso and abdominal region are, by comparison, cartoonishly slim.  His arms almost don't seem to fit with the rest of his body.  Now, a good part of this is the art style that Gearbox chose for the borderlands games.
As I mentioned back in his character spotlight, you're not going to get the exact proportions you see here.  we will, however, get you pretty close, and build you a badass Juggernaut body in the process.  We're going to build for power, shoulder/arm mass, and good explosive speed for closing the distance with your chainsaw-axe.  As with all workouts, I recommend you Warm Up and Cool Down first.
Also, getting Krieg's muscles is only half the battle.  He's also got ridiculously low body fat, and for that you're going to need to work on your diet.  I recommend, as usual, Macros and You!
Equipment Needed:
Barbell
Dumbbells
Bench
Squat Rack
Style:
Station –  Perform all sets of an exercise before moving on to the next exercise.  Rest 1-3 minutes between sets.
Workout A:
5×5 Deadlift
5×5 Pull Up (chair assisted when starting out, weighted when unweighted gets easy)
3×10 Bent-Over Row
3×10 Reverse Dumbbell Fly
3×10 Dumbbell Row
3×10 Dumbbell Bicep Curl
Workout B:
5×5 Dumbbell Bench Press
3×10 Dumbbell Overhead Press
3×10 Butterfly
3×10 Side Lateral Raise
3×10 Front Dumbbell Raise
3×10 Skull Crushers (careful not to whack yourself)
Workout C:
5×5 Back Squat
5×5 Dumbbell Lunge
5×5 Straight-Leg Deadlift
1 Set Tabata Interval Sprints (sprint for twenty seconds, rest for ten, repeat seven more times, for a total of eight sprints in four minutes)
Workout D:
30 Minute Jog (walk if you have to at first, slowly adding in more and more jogging until you're jogging the whole time)
Schedule:
Day 1:  Workout A
Day 2: Workout D
Day 3: Workout B
Day 4: Rest
Day 5: Workout C
Day 6: Rest
Day 7: Rest
Workout Notes:
So we have some basic strength stuff forming the foundation of our lifting sessions.  If you're looking to plug this workout into the RPG Fitness system, then you should use those as your "indicator exercises" and go by the weight standards for The Juggernaut Workout as your metrics for where you're at in terms of level 1-4.  Beyond the base strength, we've got a lot of isolation stuff in higher rep ranges, particularly for the arms, to promote hypertrophy and really give us that size we're looking for.
Workout C is all explosive power.  Krieg's legs aren't huge, but they certainly are powerful as they drive him towards his foes.  Finally, Workout D is there to give you the endurance to keep trekking across Pandora with all the other vault hunters.  If you're feeling particularly ambitious, you can stick an extra "Workout D" on either day 6 or 7.
That's it for The Krieg Workout!  I'll see you again on Thursday with How to Ride a Meat Bicycle!  Also, tomorrow we've got our weekly installment of Q&A Tuesday over on The Youtube Channel, so go check that out, too!  As always, remember to live boldly, change the world, and continue to be awesome!
Dan "DaRatmastah" Wallace