If you were offered the chance to become your favorite video game character, would you take it?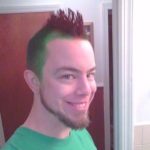 Hi there!  My name is Dan, and I'm here to help you achieve just that!
So tell me, would you take it, or would you pass up the opportunity?  Red pill, or blue pill?  Is it even possible?  Give me a minute of your time, and I'll show you how possible it really is.  In the next section, I'll tell you all about my own personal journey to improve myself, and how I can help YOU achieve your own goals.
Let's journey down the rabbit hole together, and I'll show you how awesome things can become.
Time warp!
Let's skip back to sometime around 1999.  There I was, your typical gamer nerd.  I didn't have too many friends, I didn't get along with people very well, and I honestly spent way more time sitting alone in my room by myself than I should have.  But in those hours in my room, I escaped to the most fantastic realms possible.  Awesome scifi adventures, hours spent battling dragons, crafting weapons, zapping bad guys and squashing goombas.  In those worlds, I was the strongest, fastest, coolest person around.  I was important, well liked, and generally pretty awesome.
Sure, every day I would eventually have to go to bed (usually way too late), and wake up and face another day of being a nobody in the schoolyard, but at least I had my games to look forward to when I got home.
However, after a while, even this didn't take the sting away.  Now, while I may have been socially awkward, gangly, and unable to participate in any organized sports with any real skill, I wasn't stupid.  I realized that I wanted more out of life than what I had so far.  I wanted to be like the characters in my favorite game.  I wanted to go on cool adventures, fight fierce battles, explore incredible worlds, and have the admiration of the people around me.
That, my friend, was a turning point in my life.
I realized I didn't have control over other people, or the world around me (heck, I was just a kid!), however there was one thing that I could exert some control over: Myself.
I realized that the first thing I needed to do was master my own body.  If one thing held constant between all those awesome characters on my TV screen, it was that they were all incredibly fit individuals.  I wasn't overweight, necessarily, but I had next to no muscle on my body, a pudgy little tummy, and a pale complexion that spoke of getting sunlight once every few months.
(spoiler: I'm still pale)
In the coming months, I took out every book and read every article I could on fitness, diet, nutrition, and exercise.  Some were outdated, some were not.  I applied what I learned, and started drawing up my own fitness routines and programs.  Some worked well, some didn't, but over time I started to gain some muscle, and I started to feel strong for the first time in my life!
Now, I have to tell you, there's a phrase that goes something like, "Nothing tastes as good as skinny feels."  I'm not sure that's true.  However, I can say with confidence that nothing tastes as good as strong feels.  For the first time in my life, I was starting to feel confident with myself.  Sure, my tongue and my brain conspired to betray me every time I tried to talk to a pretty girl, but at least I felt awesome!
Games, too, changed and matured as I did.  We started to get multi-layered characters, with interesting back stories, and moral quandaries to face.  Parkour was on the rise, and relatively realistic in-game feats were starting to become the "in" thing for game developers to do!  Suddenly, I could start to draw a lot more inspiration from my favorite characters than just their physiques.
I began to turn my life into my own personal quest line.  I got my black belt in karate, started studying judo, took some kung fu, tai chi, scottish broadsword, and jiu jutsu on the side.  I made it a goal to start amassing skills and experiences rather than just possessions and things.  I tried to see more, learn more, and do more, every single day, and it all stemmed from the decision, back when I was twelve years old, to start working out because I wanted to be like my favorite video game characters.
It's been a fifteen year journey for me to get to this point.  I've been through some hardships and hard places along the way, but I'm here now, before you, to pass on all that amassed knowledge in a compressed, distilled form that you can start working with today!
I have created a fitness system specifically designed to help you, my fellow gamers, gain what I have gained: a strong, healthy, capable body that exudes confidence and self respect.  The name of that system, is…
RPG FITNESS
Think of all the crash diets, workout fads, and various methods and madness you may have seen out there.  Now imagine if we cut all that crap, and stuck with simple, straight-forward, science-proven methods.  Now imagine if we took those methods, and built them into a role playing game-style leveling system!  That's exactly what RPG Fitness is all about.
For every workout you do, you gain experience points.  Sticking to your nutrition plan?  Experience points!  Go on quests to attain higher levels of fitness?  TONS of experience points!  Listen, games (RPG's in particular) work because they reward you consistently for your progress, and that keeps you motivated!  We're just taking that exact same principle of continuous motivation, and turning it into a fitness system, specifically designed for YOU!
Pick your archetype and class!  Having a target ideal keeps you motivated!
Stay motivated with our revolutionary leveling system!
See IMMEDIATE results!  Start leveling up and feeling better today!
Progressive workouts!  Build the body YOU want!
Beginner to expert level instruction!  Even if you've never done a push up before in your life!
Real, science-backed methods.  Cut the crap, and get a real fitness program that works.
Here's what other gamers have to say about RPG Fitness:
I love the versatility in "character classes", the fantastic advice on how to reach an individualized fitness goal, and the overall tone/theme — it's fun, it's casual, it's not too much or too little information, and it's POSITIVE. About, like, EVERYTHING. -Zara
A fantastic source of information for fitness and better living. -Jerry
Thank you so much for this! -Aleksander
I love it. I now feel I can achieve my goals because I have someplace to start. -Sara
It's dangerous to go alone, take this!
Most people fail at significantly changing their lifestyle because they're trying to go it alone.  The fact is, no one is an island, and it's always better to have a team with you.  In addition to myself, there's also the full Be a Game Character community backing you.  With community workout logs, Q&A threads, and general banter, we're always there for each other.  You're never alone in your quest.
Now is your chance.  Take your first step to greatness, and unleash your inner champion.  Click the link below to grab YOUR copy of RPG Fitness for only $19.99

After purchase, you will be sent to a direct download link where you can immediately download YOUR copy of RPG Fitness, and begin your own adventure!  RPG Fitness will come in eBook PDF form, which you can open with Adobe Acrobat, Word, or your PDF/eReader program of choice.  If you have any questions or comments, you can contact us any time at beagamecharacter@gmail.com
ClickBank is the retailer of products on this site. CLICKBANK® is a registered trademark of Click Sales, Inc., a Delaware corporation located at 917 S. Lusk Street, Suite 200, Boise Idaho, 83706, USA and used by permission. ClickBank's role as retailer does not constitute an endorsement, approval or review of these products or any claim, statement or opinion used in promotion of these products.