Discuss this post:
On the forums!
On Reddit!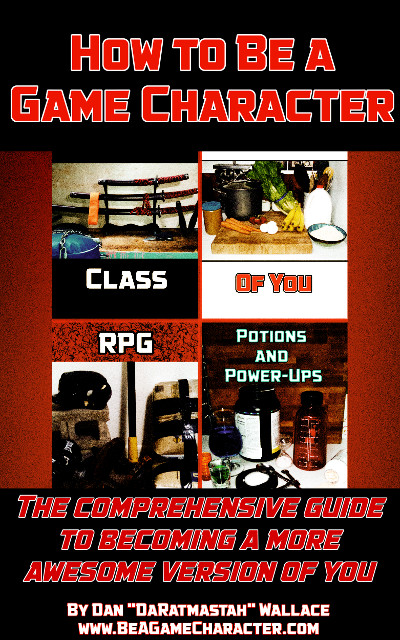 WHOOHOO!!  I'm running on fumes right now from the effort I put into getting this thing done but HOLY CRAP IT'S OUT!  RPG Fitness is done, which means that the full HOW TO BE A GAME CHARACTER fitness system is complete, live, and ready to be downloaded!  As if that weren't enough, I'm so stoked about this that I decided to do a grand launch sale!  From now through Friday the 17th, How to Be a Game Character will be $10 off the normal price, in addition to any coupons you may or may not have **coughsurveycouponcough**  For less than the cost of a single new video game, you can make a purchase that can permanently improve your life.  With over 160 full-size pages worth of goodies, this book is the equivalent of an entire year's worth of blog posts (and then some).  Heck, just take a look a the official write-up:
Finally it's here, the complete How to Be a Game Character fitness system!  Four separate volumes designed to fit together perfectly, to help you engineer your own legend, and unleash your inner champion.  The definitive guide to becoming a real life game character comes packed with knowledge, tips, motivation, and strategies for success.  Gain the body, mind, and life you've always dreamed of, by following How to Be a Game Character system.  Just what exactly is contained within this hallowed volume?  I'm glad you asked!
Part 1:
Intro
Choose Your Class
Choose Your Class is all about picking the plan that fits you.  Short, sweet, and to the point, we're not going to be following any multi-page personality tests here.  Instead, you get a short, concise summary of each class, their approaches to life and fitness, and how they might benefit you.  Get off the fence and pick a path!
Part 2:
The Care and Feeding of You
Nutrition and personal care are important.  Incredibly so.  In fact, I'd go so far as to say they're MORE important than your workout regimen.  Seriously.  The Care and Feeding of You walks you through exactly how to go about changing your body's shape to your liking.  Want to lose weight?  We've got that.  Want to gain muscle?  We've got that too!  Want to cut some body fat percentage and get shredded for the beach?  No problem!
Additionally, The Care and Feeding of You offers some no-nonsense strategies for success, to help keep you from falling off the wagon.  It's not a crash diet, it's not a cleanse, and it's not some magic pill mumbo-jumbo.  Just straightforward, easy-to-follow advice and suggestions on how to supercharge your body with the best fuel you can.
Part 3:
RPG Fitness
Have you ever had an issue staying motivated?  Do you ever find yourself wishing that getting fit could be more like leveling up in your favorite game?  Wish no longer, my friend.  RPG Fitness is here to cease those woes, once and for all.
Featuring nine detailed workout plans, far more complete and comprehensive than anything featured on the blog, you'll be introduced to the principles of fitness, laying out a simple, straightforward understanding of how your body works.  Then, we'll walk through how to develop your own character sheet.  You'll fill in your class, your mentor, learn how to gain experience points, and level up!  What's more, the RPG Fitness system is designed to go hand-in-hand with The Care and Feeding of You, giving you a total package.  Additionally, if you're particularly fond of a certain character's workout on the site here, I walk you through how to plug their workout into the RPG Fitness system, so you can still work on becoming your favorite game character and level up at the same time.
Part 4:
Potions and Power-Ups
Part four introduces you to the wide world of fitness supplements.  With so many different products out there, it's tough to know what's worth getting and what isn't.  I help you steer clear of the snake oil, as well as point out what products really do benefit you, and why.  Then we close out with some "Potion and Power-Up" recipes of our own, because what's the fun of trying to be a game character if you don't get into character a little bit?
Make no mistake.  How to Be a Game Character is a life changing book.  Choose your class, write your own legend, and unleash your inner champion.  Grab How to Be a Game Character today.
Man, I am wiped out, but I am really looking forward to seeing everyone's reaction to this.  I worked so hard on it, and I am so proud of it, and I think you guys are all going to love it.   Go check it out!
The other benefit of having finished the book is that next Monday we'll be returning to business as usual with a new character breakdown!  Sorry for the brief break there, but I think we can all agree it was worth it.  Also, we have the website redesign looming on the horizon, I'll be throwing up a vlog about that this Saturday, talking about the survey results, and what my plans are.
Now, I'm going to go sleep for a day or two.
Live boldly, change the world, and continue to be awesome!
Dan "DaRatmastah" Wallace