Discuss this post in The Guild Hall!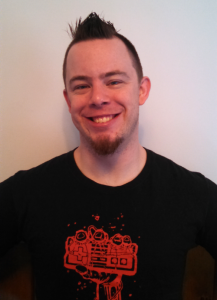 What's up, gamers?
I thought I'd take today to have a little chat about where the blog's at, how we've been, and where we're going soon!  It's been a little over six months since our awesome relaunch, so I figured it was a good time to take stock of things, and give you a preview of awesome stuff to come!
Big Successes!
New T-Shirt!
First off, we've got a badass new t-shirt design on sale, for a very limited time only!  If you think you're cool enough to rock this sexy shirt, head on over and grab one before they're GONE FOREVER.  Every single shirt we do is a limited edition run, you don't want to be one of the people left out in the cold on this one.  Also, after you get your shirt, remember to rep it on the Facebook page or over in The Guild Hall!
RPG Fitness
Without a doubt, the biggest thing in the last six months (besides being back) was the release of the updated and improved RPG Fitness!  This update featured improved workouts, simplified nutrition planning, new class stories, and a whole bunch of smaller upgrades and improvements.  It also featured a VASTLY improved layout, courtesy of our own Alex Tarsi (alexander_four over on the forums.)  If you haven't gotten it yet, I can't recommend the book highly enough.  If you have gotten it, I'd love to hear any and all feedback, just shoot me an email!
New Characters!
Since the relaunch, we've covered some awesome characters!  First off was Captain Falcon, a perpetual fan favorite! After Captain Falcon, we went with a more malleable character with The Vault Dweller, from Fallout 4! Next was Deadpool, to celebrate the release of his first-ever live action movie!  After that, we spent some time in the fractured mind of Krieg from the Borderlands series, one of the most requested characters on the blog!  Finally, and most recently, we took at look at Tracer, the bubbly, time-traveling heroine of Overwatch!  That's a pretty badass lineup, and it's only going to get better in the coming months!
Q&A Tueday!
Although the official YouTube channel is still semi-dormant, I've relaunched the weekly Q&A Tuesday feature, answering questions from YOU, each and every Tuesday!  If you haven't joined us yet, come on over and ask a question about anything!  I'll give you the best answer I can on the spot, and give you some follow-up resources if necessary!
Personal Training!
In addition to RPG Fitness, I've also begun to offer personal training and custom fitness plan services!  Interested in a fitness solution tailored to YOUR specific needs?  Click here to take a look, and request a quote!  I've already had a chance to help a bunch of people out, and you might just qualify for my services as well!
Stuff to Work On
So, not EVERYTHING since the relaunch has been a big success, of course.  I talk a lot about failure on this blog, and how it's important to learn from your failures and use them to grow!  Here's some less-than-stellar projects that have fallen (perhaps temporarily) by the wayside.
RPG FitGroup
This was going to be a members-only group coaching and support group to go hand-in-hand with RPG Fitness.  Unfortunately, it never really picked up enough steam to get off the ground.  You really need a critical mass of people involved for something like this to work, and since we didn't get there, I've shelved the project for now.  Honestly, it was a misstep on my part.  Trying to launch this at the same time as RPG Fitness was super ambitious, and I didn't really lay the proper groundwork for it.
RPG FitGroup may come back around again in the future, when I've really got the time and energy to properly devote to it!
The Guild Hall
When we first launched, I put a big emphasis on building the forum community over in The Guild Hall.  Unfortunately, since then the community there has fallen off a bit.  Once again, I blame my own lack of involvement and participation more than anything else.  With everything else going on, I had a bit too much on my plate to properly manage and push the forum, and slowly things quieted down.  There's still some people hanging out, and we're super supportive of each other, but I'd really like to get the population built up again.
The Guild Hall will become a priority again in the near future.  More on that, below.
Let's Play!
I started a Let's Play channel back when we were covering The Vault Dweller!  It's super fun, and I didn't launch it expecting to become the next PewDiePie or anything.  Unfortunately, again due to time reasons, I eventually had to take a hiatus.  Honestly, the whole idea behind the channel is just to record myself when I'm playing games and put videos up to amuse people!  This only works if I'm actively playing games. O_O  I've had so much going on in the background with the blog and future progress that I haven't really played any games in the last month and a half!
This is killing me.  Don't worry, this is coming back for sure, I need me some game time, and I look forward to starting to do videos again soon!
Coming soon!
So, with the successes and the less-than-successes out of the way, let's talk about what's coming soon!  In the past, I've created big massive lists of things I want to do, and unfortunately, just due to the nature of big to-do lists, I've come up short.  This time, we're keeping it short and sweet!
Unleash the Ultramind/Ultramind University
If you've been paying attention since I came back, I've been talking a lot about the "mental upgrade" I've experienced over the last year and a half, and how I want to start spreading that knowledge around.  I've been trying to figure out how to present that knowledge, and the potential project has had a couple names (God Mode, Becoming Superhuman, etc.)  Finally, I've begun work on this: Unleash the Ultramind, a YouTube channel featuring profiles of famous geniuses, mental mastery techniques, and other great stuff for your brain, and Ultramind University, a paid video course that distills all the lessons I've learned to help you become more productive, make more money, learn faster, keep a positive mental attitude.
Sound like something you'd be interested in?  Awesome.  Click here to join the email list and get in on the ground floor!  You'll know the second the YouTube channel goes live, and then when the video course series goes live you'll be able to get in on the ground floor with early adopter founders bonuses!
The Guild Hall
Let's be honest, here.  The forums need a little love.  In addition to Unleash the Ultramind, my next endeavor is to migrate the forums over to a much better software package than old PHPBB, and get some awesome discussions going again!  We're going to reinstate the Members Only area (don't worry, free as always) to give people early access to posts and new content coming down the pike.  We'll also have a whole bunch of other incentives to nurture awesome discussions, as well as a sexier layout and color scheme.
Keep your eyes out for this one coming soon!
Thank You
In closing, I'd like to thank you, personally, for your participation in this awesome community on the blog.  Tons of people have reached out to me since I came back, and I appreciate all of the kind words you've sent me.  I love the community feedback, as well as the way we've grown in just these brief six months.  None of this would be possible without you, and I'm really glad you're here.
So, that's it for the State of the Blog!  I hope you've enjoyed 2016's offerings so far, and I hope you're super excited for the next half of the year because it's only going to get better, baby!
As always, remember to live boldly, change the world, and continue to be awesome!
Dan "DaRatmastah" Wallace