Discuss this post in The Guild Hall!
Ladies and gentleman, I am super excited to present to you, finally, the product of a whole lot of work over the last year and a half.  I am proud to present to you the new, improved…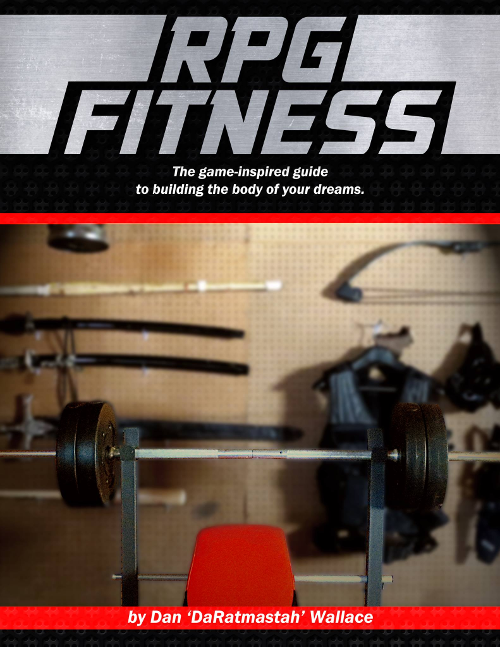 If you've been around the blog for a while, you may remember How to Be a Game Character, the original flagship eBook that I quit my job to write and release, back in 2014.  Back then, RPG Fitness was just a section of How to Be a Game Character, which was written to be divisible into several different chunks (Choose Your Class, The Care and Feeding of You, RPG Fitness, and Potions & Power-Ups.)
This new RPG Fitness is what "How to Be a Game Character" wanted to be when it grew up.  Seriously though, this is everything you love about the first book, with a ton of new content added in, all wrapped up in a sexy new cover and layout courtesy of our own Alex Tarsi.  In fact, I think Alex deserves credit as being the single biggest sweeping change in the new volume, so I'd like to take an extra second to thank him for everything he's put into the blog and this eBook.  Alex, you are the man.
Now, let's talk for a minute about the changes that have gone into the new RPG Fitness:
Every class has its own intro story now, to illustrate the highlights of that particular class and its skills!
The book has been re-engineered into a cohesive whole, no longer designed to be broken up into multiple volumes.  This leads to much better functionality, readability, and overall usefulness.
"The Care and Feeding of You" has some updated numbers, recommendations, and methods based upon scientific findings that have come out since the initial publication.  Additionally, experience awarding for nutritional goals has been revamped!
Some of the schedules for the workouts in the "Class Workouts" section have been shifted around, both to reflect new scientific data, and for somewhat easier personal programming.
XP Table and Log Page Cheat Sheets!
Tired of having to open the full eBook to find your current level goal for your XP, or to print out/save a new character log?  The XP table and blank character sheets both come as standalone documents now, in addition to still being featured in the main book.
Overall, RPG Fitness is what I envisioned when I first dreamed up the book almost two years ago, now.  A whole lot of sweat, sleepless nights, and hard work went into this, both on Alex's part and on mine.  I'm confident you'll be happy with the eBook, I know I am.  If you never purchased the first version, this is your chance to own the upgrade without ever knowing any less.
If you bought the first version and you aren't sure if it's worth buying this second edition, check your email for a special offer from me that you should have received a few weeks ago.  Don't see it?  Email me.
Of course, RPG Fitness isn't the only thing we're here to talk about today.  Starting next month, I'm also going to be launching a new, ongoing service called RPG FitGroup.  Curious?  Well then I think you should definitely come to…
Be a Game Character's First Ever Webinar!
This Friday, at 8:30 PM EST, I'm going to be running the blog's first ever webinar!  What's a webinar?  It's a totally awesome way for me to be able to interact with you!  It's basically a scheduled online presentation on any number of subjects.  This Friday's subject will be:
How to Succeed at Getting in Shape
Pretty self-explanatory, I imagine, I'm going to be talking about the common pitfalls and mistakes people make in trying to improve themselves, and how to avoid them!  I'll also be discussing RPG FitGroup, and we'll have a fun Q&A Session as well!  Don't worry, if you're a ShyGuy you can just come and listen, you don't have to participate actively, and all communications from your end are text-based, so don't worry about having a mic or a webcam.  You only need speakers or headphones, so you can listen to the dulcet tones of my voice.  A screen to watch the presentation also helps.
Now, the webinar does have a limited number of attendees, and it's first come, first serve, so click here to reserve your spot now!  Trust me, you don't want to miss this, it's going to be a lot of fun, and people that come are also going to be treated to some goodies at the end!
All in all, this is going to be an awesome week for Be a Game Character.  I'd like to take the end of this post to just thank you for joining me on this journey.  I'm so glad to have you, personally, with me, and I hope that I can return the favor by helping you in some way.
I'll see you again on Thursday!  As always, remember to live boldly, change the world, and continue to be awesome!
Dan "DaRatmastah" Wallace