Discuss this post in The Guild Hall!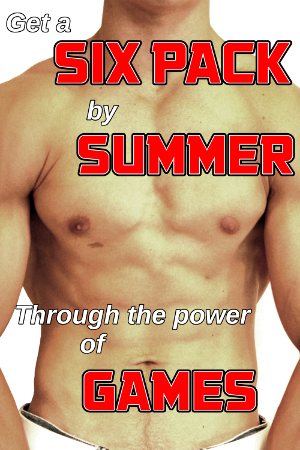 (Don't worry, not the official book cover or anything, I've got a professional working on that.  =P)
Hey guys and gals,
Sorry for taking a break from Deadpool for a day, I promise he'll be back on Monday.  Today, though, I'm happy to announce that the new, revamped version of How to Be a Game Character will be launching VERY soon!  The eBook that I launched over a year ago has been rebranded to the much more mouth-friendly "RPG Fitness."
RPG Fitness will have all of the content from How to Be a Game Character, updated and revamped according to new scientific understandings in fitness and nutrition!  Additionally, there's a whole bunch of NEW content, including individual short stories for every class (you can read one of those stories here!)
For now, the old How to Be a Game Character, RPG Fitness, Potions and Power-Ups, and The Care and Feeding of You have been removed from the store.  While originally designed to be able to be sold as individual books, or one big whole, the old How to Be a Game Character was kind of clunky for that reason, and it was a little confusing to some people when they visited the Armory for the first time.  The new book will be one single volume, reorganized and reformatted to function as a new cohesive whole.
Additionally, there will be an accompanying ongoing fitness and group training program run by me, called RPG FitGroup, launching at the same time as RPG Fitness!  This exclusive group will be like an online gym and personal trainer all rolled into one, with individual attention granted to each and every one of its members, weekly webinars, and much, MUCH more.
So, exciting stuff, and I have so much more to share with you!
Again, I apologize for interrupting our regularly scheduled Deadpool programming, but we'll return to him on Monday!  In the meantime, you can see what happens when a weight lifter tries to do bodyweight endurance exercises in this recent video I made because I lost a bet on the forums!  Click here to see my 100 pushup challenge!
As always, remember to live boldly, change the world, and continue to be awesome!
Dan "DaRatmastah" Wallace