Discuss this post:
On the forums!
On Reddit!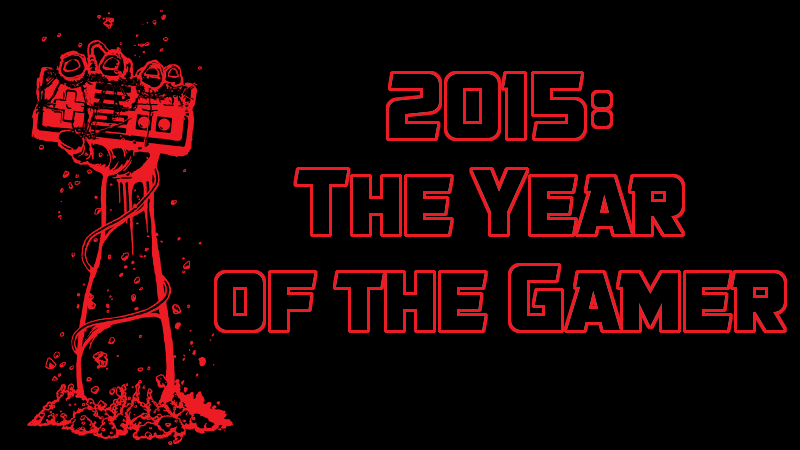 Special thanks to Alex Tarsi, BAGC reader who did the awesome artwork for this header.
Woohoo new year!  First off, just another reminder, if you post a New Year's Resolution on the official forum thread between now and January 5th, you're entered to win a free copy of "How to Be a Game Character!"  I'll be picking TWO winners, so your odds are good!  We've had some GREAT resolutions already, go check them out, and add your own!
So, here we are, at the precipice of awesome!  Things got pretty hairy for the last quarter of 2014, there.  I apologize for the break, but it was much needed, and allowed me to really level out and set my course.  So here's the deal:  I quit my job.  Yup.  Thanks to my amazing wife, Jackie, I'm able to take a shot at turning this blog into a full-time gig.  What does that mean for you?
Well, first of all, 2015 is going to be all Be a Game Character, all the time.  Granted, I've still got the whole "be a dad" thing going on, and I'm still managing my karate dojo, but the VAST MAJORITY of my time is now freed up to work on blog stuff.  That's super exciting for me, and it should be super exciting for you, too.  Here's what you're getting right off the bat!
Regular Updates
We're back to regular updates again!  Initial schedule is going to be new blog posts every Monday and Thursday, with a video every other Saturday (going into effect immediately, starting Monday next week).
New Characters
New updates means new characters!  I've been getting TONS of great suggestions and believe me, I've been chomping at the bit to get on them.  Also, the blog is going to be getting back to its roots and focusing mostly on characters again.  I'll probably still do some fun little grab-bag style posts every now and then, but the main focus of the blog will be character breakdowns, skills, and workouts.  We'll also see the triumphant return of the character psychological analyses as well.
Better Videos
I want to really up the quality on the videos I put out (which is part of the reason you'll only see them every other week).  I've got the time to invest in creating some higher quality work, now, which I'm psyched for.  This will be a gradual ramp up as I get better at it (I'll be learning as I go), but you should be seeing increased quality and subject matter in every video.  The videos will also be (mostly) character focused.
So, starting next week, that will be what you get right off the bat.  HOWEVER, we've also got some cool stuff in the works here at Be a Game Character headquarters.  This will include, but not be limited to…
New Site Design
It's time to step out of the early 2000s!  Let's be honest, the current layout is okay for a hobby blog, but if we're going to be the real deal, and start making some waves in the gaming and fitness communities, we're going to have to step our game up, too.
PS: Any WordPress designers in the house?  Please email me if you'd be interested in assisting.
eBooks
Yeah, release dates got pushed back a bit, but I'm almost done with How to Be a Game Character.  Final draft copies of The Care and Feeding of You went out to pre-order people last night, the book itself should be in the store by the end of the week, and RPG Fitness is our last mountain to climb!  ALMOST THERE, FOLKS!  I'm also looking into possibly doing a gaming-themed healthy cookbook before the year is out, look forward to that!
Merchandise
Yeeeaaaah buddy.  We're finally going to make this happen, starting with t-shirts featuring the awesome artwork in the header for this post (minus the "2015: The Year of the Gamer" nonsense).  Part of the reason for holding back on this was because to maintain a merchandise inventory, I need to make sure I can get enough pre-orders to justify it.  To get more pre-orders, we need to…
GET MORE READERS
I've got a bunch of ideas on this front that I'm going to be executing in the coming days.  One thing I really want to look into setting up is a referral program where you can get books, exclusive articles, merchandise, and other cool stuff by referring other people to the blog.  I've got tons of other ideas, too, but the biggest thing to help with this is you!  Please continue to spread the word about the blog!  YOU are what keeps ME going!
ALRIGHTY, TO RECAP!
Blog updates Monday and Thursday, videos every other Saturday, starting next week!
Bringing the focus back to the game characters.
Merchandise coming soon (for real this time)!
TELL EVERYONE YOU KNOW THAT THIS BLOG IS ABOUT TO BLOW UP THE INTERNET.
See you Monday.  Live boldly, change the world, and continue to be awesome.  =D
Dan "DaRatmastah" Wallace
PS: Go post a resolution!  Seriously, it's liberating!  (and you get a chance to win a book that will change your life forever)