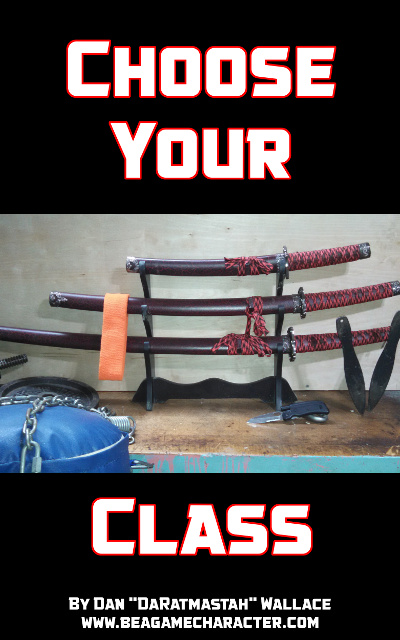 Hey all you awesome people!  Choose Your Class is live!  If you've pre-ordered "How to Be a Game Character," you should already have it in your inbox!  If you haven't pre-ordered the book, you can go and grab Choose Your Class by itself for only $4!
First off, I'd like to apologize for the delay on this one.  It was supposed to go live on the 15th, but unfortunately a combination of life getting in the way, and my own unwillingness to accept what I had written, got in the way.  Choose Your Class is definitely the shortest of the eBook sections (hence the $4 price tag), but I actually rewrote it three times before I was satisfied with it.  Hopefully you enjoy the efforts. =D
I'm really excited to get the next two sections to you, however.  Think of "Choose Your Class" as your appetizer, and "Potions and Power-Ups" as a side salad before your meal.  The entree is coming.  The Care and Feeding of you is up first, due to go live on November 30th.  It's going to be awesome.  Shortly following that, RPG Fitness, the crown jewel, will be going live on December 15th.
Incidentally, December 15th (or something near there) will be the last day I work my regular day job.  I gave notice today.  One month from now, I will officially be creating content for you awesome people as a full-time endeavor.  It's taken four years of work, three separate hiatuses, and a whole lot of sleepless nights…but we're finally getting there.  Thank you so much for going on this wild ride with me.  You're seriously an amazing group of people.  Thank you for your support and encouragement.  I can't wait to see what we can accomplish together.
Until next time, remember to live boldly, change the world, and continue to be awesome.  =D
Dan "DaRatmastah" Wallace