Finally I can get that stupid 'Burnout' post off the front page…
BURNED OUT NO MORE, BABY!
So, taking some time off has been awesome for my creative juices!  They are flowing, like a crashing flood of brilliant inspiration!  Splashing against the confines of my brain, and dribbling out my ears!  I think I've lost control of this metaphor!
Regardless, I've been a busy little bee in my off time.  The first evidence of this is the launch of the awesome, brand-spanking-new, never-before-seen…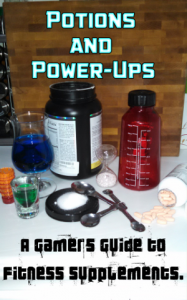 That's exciting!  Go check it out!  Even more exciting is the fact that this is just the start!  If you're on the mailing list, you already know this, but Potions and Power-Ups is just one section of a FULL eBook titled, "How to Be a Game Character."  Right now, you can actually pre-order the full book for 40% off the final price, if you are so inclined, and have the other sections emailed directly to you as they are finished.  If that interests you, go check it out here!  Otherwise, you can just snap up the individual sections as they come out, or grab the full book when it's completely done and released.
What other sections, you ask?  When are they coming out?  Excellent questions!  The projected release dates are as follows:
October 31st: Potions and Power-Ups
November 15th: Choose your Class
November 30th: The Care and Feeding of You
December 15th: RPG Fitness/FULL BOOK!
December 22nd: Blog updates to resume (if they haven't already)
Discounted pre-orders for the full book will be open through November 14th, so grab em while you can!
Something to note, as well, is that while December 22nd is the PROJECTED revival date for the blog itself, posts may resume before that, depending on how much power writing I can do between now and then (gonna need some Elixirs of Brilliance for that, methinks).
This is a really exciting step for the blog, and I am super happy to be sharing this all with you.  Thank you so much for your continued support.  You guys and gals are the best.
As always, remember to live boldly, change the world, and continue to be awesome.
Dan "DaRatmastah" Wallace