Discuss this post:
On the forums!
On Reddit!
Hey guys and gals, I'm going to blow your mind today.
You know all those "One simple rule" or "one simple trick" ads that you see ALL OVER THE PLACE and you're like, wtf, how can that be true?
Well, it can't.
I mean, actually it can, but if you ever click those banner ads they're going to take you to some BS "acai berry cleanser" or other such nonsense that will do NOTHING FOR YOU but waste your money and possibly get your identity stolen.
THERE IS A SIMPLE RULE TO STICK WITH FOR A HEALTHY DIET, THOUGH!!
Are you ready?  Seriously, ARE YOU READY?!?!
Eat vegetables and protein.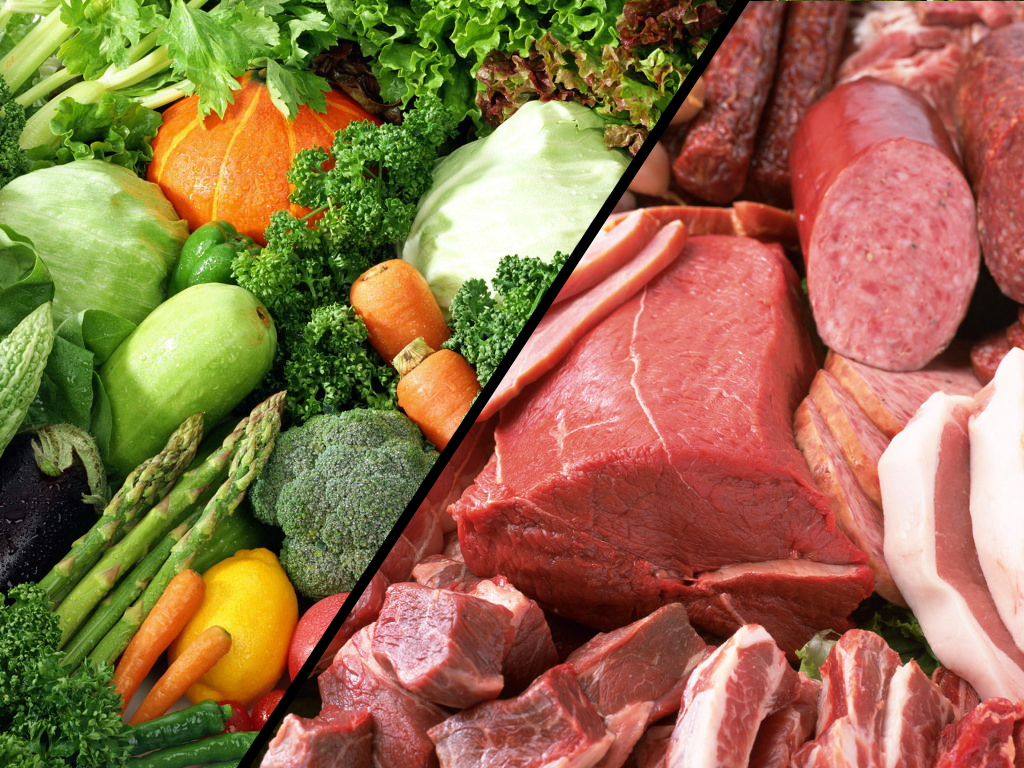 Seriously.
Like, I can't even tell you how straight-up honest this is.  I know we go crazy talking about Macros and Fighter Diets and Big Guy Diets and stuff, but here's the thing: That's all really complicated.  Seriously, it is!!  If you want to cut ridiculous bodyfat and get super trim, then you absolutely need to pay attention to your macros and dietary considerations.  Same deal if you want to gain significant muscle mass (although that's really just eating a buttload of food in the relatively correct proportions).
If you want to effect real lifestyle change in your life, which is essential for getting on a healthy dietary track, it need to be simple, ESPECIALLY when you're starting out.
In fact, rather than call it a healthy diet, because for some people, that implies a temporary change, we will instead call it a healthy life.
So, to reiterate; The simplest (simplest!) rule to a healthy life is…
EAT VEGETABLES AND PROTEIN
Vegetables come first in that setup because you should eat more of them than you do anything else.  Notice I'm not saying any specific veggies and protein.  If you want those, they're at the end.  Notice I'm ALSO not saying "eat vegetables with salad dressing and protein on a bun with some cheese on top."  Vegetables.  Protein.  You want to add some flavor to your veggies?  Awesome, throw on a nice little vinaigrette (I personally like just straight raspberry balsamic vinegar on my salads).  Something to go with your meat?  Go wild with seasonings! (though I personally love just a little salt, pepper, and maybe a bit of garlic).
Bottom line is, eat more veggies than you do protein, and eat more protein+veggies than you do any other food group.  If you can get 80% of your diet up to vegetables and protein, you're going to be doing better than most of the western world.  Go, you!
NOW the food ideas.
Good Veggies
Good Protein
Good Protein
(for the carnivorously challenged)

Broccoli
Spinach
Romaine or Red Leaf Lettuce
Peas (regular or snow)
Kale
Cabbage
Brussels Sprouts
Peppers

Chicken
Fish
Pork
Eggs
Beef (leaner cuts to stay low cal if you're cutting weight, grass fed if possible for better nutrients)
Bugs (check out the forum thread!)
Whey

Eggs
Whey Powder
Soy (Tofu/Soy Powder/Soy Nuts)
Tree Nuts (almonds, walnuts, brazil nuts, etc.)
Legumes (beans, peanuts)
Avocado and Olive Oil (not proteins, but you need these to get the fat you need since you're not eating dead animals – unless you eat tons of tree nuts)
AHA, SO GRAINS ARE BAD, THANK YOU DR. ATKINS.
No, just…no.  Grains are mainly a source of one thing: carbohydrates.  Whole grains also give you some protein and fiber.  These are good things.  But the fact is, grains are stupid hard to avoid in modern life.  The vegetables and protein lifestyle assumes you're probably going to come into contact with some grains regardless of what you're doing in your daily life, unless you are SUPER regimented.  If you're trying to gain muscle, or get energy for long-distance cardio competitions (marathings, triathlons, etc.), you better HOPE you're getting your grains!
However, vegetables themselves have carbohydrates in them as well.  Between these carbs, and the ones you're likely to encounter in day-to-day life anyway (unless you prepare all your food yourself and never eat out), you're probably GETTING enough carbs already, unless you need excess for the aforementioned fitness goals.
So, carbs are good, but if you follow this diet you're probably getting enough that you don't really need to supplement with grains.
WELL WHAT ABOUT THE EVIL, EVIL FATS, THEN?!
Well, if you take a look at the vegetarian-friendly menu on the right, you'll notice I actually stuck some extra foods in there SPECIFICALLY for their fat content.  You body really, really needs fat (look at my last post on becoming superhuman).  That said, if you're getting most of your protein from meat, you probably already get enough fat.  If you're not, you need to supplement with other fat sources like olive oil, avocados, and nuts.
Beyond that, of course there's more than just the food suggestions above, ESPECIALLY in the vegetable category.  I just named some of the most nutrient-packed options.
SO IS THERE ANY FOOD THAT IS EVIL, THEN?!
YES!!  Yes, yes there is.  Sugar.  Freaking sugar, man.  Sugar is something you're going to encounter just about everywhere.  Your body needs it, to an extent.  But the reality is, the average american gets like FIFTY TIMES the recommended daily amount.  One single can of soda contains more sugar than you should be consuming in an entire day.  Seriously.  
Now, you'll notice that fruit is absent from this whole article.  Fruit is definitely better for you than, say, candy.  Some fruits have lots of awesome nutrients in them, too (helloooo cherries!).  So, when you've hit your 80% of your diet with veggies/protein, consider adding in some fruit to make up that last 20%.  You'll get the sugar you need, along with fiber, vitamins, bioflavinoids, phytonutrients, and all kinds of tasty stuff.
That's it for today.  Sorry this post didn't go up yesterday, stuff has been muy loco with coming back from karate camp right into the grand reopening of my dojo.  MEA CULPA.  Good stuff is coming tomorrow in the form of a new Character Spotlight, though.  So, until then, remember to live boldly, change the world, and continue to be awesome.
Dan "DaRatmastah" Wallace
EAT VEGETABLES AND PROTEIN