Discuss this post:
On the forums!
On Reddit!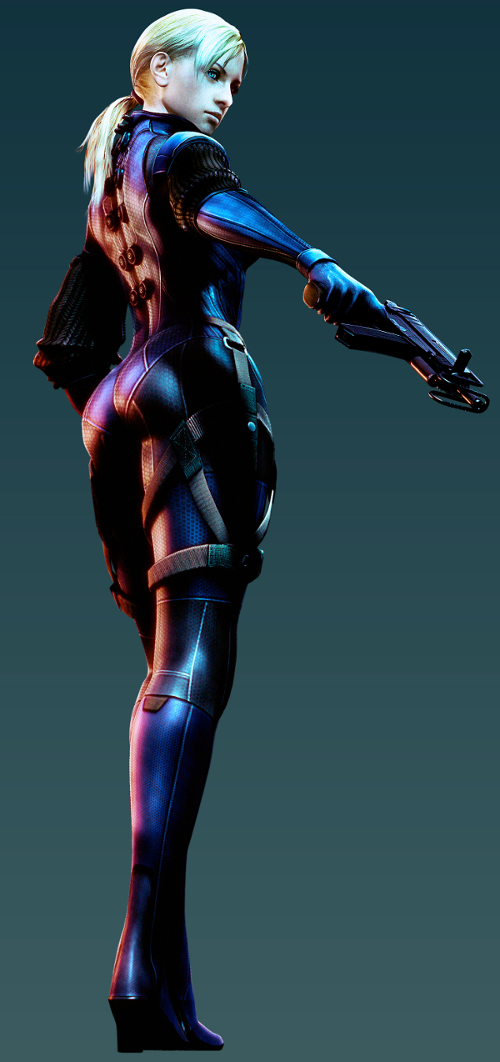 Jill's defining characteristics are most definitely tenacity, resiliency, and self-sufficiency.  She's strong enough to be able to handle herself in the event of a bio-weapons event, and she's got the chutzpah to keep herself going the whole time.  Though not superhumanly strong (with the exception of when she was under the mind control and performance boosting drug, P30), she's still strong enough to hold her own against any other person in hand to hand combat, which is quite impressive given her smaller stature.
For Jill, we're going to look at an endurance-heavy, bodyweight-style workout, inspired partially by her Delta Force training origins.  We want to get strong, but remain slim and maneuverable.  We also want the ability to just go, for a long, long time, so we're going to dip a bit more into long-form cardio and high rep counts than we typically do.  For diet, as usual, we want to follow the guidelines laid out in Macros and You, along with some of the food recommendations from The Fighter Diet.
Note: This workout is split into four tiers in order to easily plug into the RPG Fitness workout system.
Required Equipment:
Strength Workouts
Level 1 (beginner):
3×3-5 Kneeling push ups
3×3-5 Chair-assisted pull ups
3×3-5 Bodyweight squats
3×3-5 Crunches
3×5-10 Second planks
Level 2 (intermediate):
5×3-10 Push ups
5×3-10 Pull ups
5×3-10 Pike push ups
5×3-10 Bodyweight squats
5×7-15 Crunches
5×10-20 Second planks
Level 3 (advanced):
5×10-15 Push ups
5×10-15 Pull ups
5×10-15 Pike push ups
5×10-15 Bodyweight squats
5×20-25 Crunches
5×5-10 Leg lifts
5×25-30 Second planks
Level 4 (S.T.A.R.S Agent):
5×20-25 Push ups
5×15-20 Pull ups
5×5-10 Handstand push ups
5×5-10 Pistol squats
5×20-25 Russian twists
5×5-10 Dragon flags
5×25-30 Second planks
Strength Workout Notes:
So, the great thing about this workout is that you can do it basically anywhere (with the exception of the pull ups).  Very minimal equipment.  This workout is going to build a lot of muscular endurance, and a good amount of strength (though nothing like what Chris Redfield would hit in terms of power…but that's okay, Jill can run circles around him all day long).  We do a lot of core work to enhance bodily control when climbing, fighting hand to hand, and bracing ourselves for firearms.  Not too much leg work, just enough to keep us strong, mostly because there's going to be a lot of leg work in the cardio workouts.
Cardio Workouts
Level 1 (beginner):
30 minute walk/run (walk at a brisk pace, gradually work in more running until you're running the whole time)
Level 2 (intermediate):
30 minute run
5×21 foot sprints (rest for 30 seconds between each sprint
Level 3 (advanced):
45 minute run
7×21 foot sprints (rest for 30 seconds between each sprint
Level 4 (S.T.A.R.S Agent):
60 minute run
10×21 foot sprints (rest for 30 seconds between each sprint
Cardio Notes:
Simple, straightforward.  We're going to be running a lot.  If you've got really bad joints or something else inhibiting you from running, an equivalent time riding a bike at a good clip, or half the time swimming, can be substituted in.  The sprints are measured for what's known in police training as the minimum safe distance against an armed attacker.  We're going to assume Jill wants to be able to close the distance if she finds herself without a firearm, before bio-weapons or umbrella agents can utilize ranged weaponry against her.
Schedule:
Day 1: Strength
Day 2: Cardio
Day 3: Rest
Day 4: Strength
Day 5: Cardio
Day 6: Strength
Day 7: Rest
Schedule Notes:
Feel free to swap in an extra rest day when you're first starting out.  We work strength a bit more than our cardio because we want to give our joints more time to recover between runs (running can be kind of tough on your body at first).
That's it for today!  I hope you enjoyed our time with Jill Valentine!  Tune in tomorrow for our video of the week.  Also, the newsletter goes out tomorrow night, so make sure you've joined up so you can keep abreast of all that's going on with the blog.  Live boldly, change the world, be awesome.
Dan "DaRatmastah" Wallace