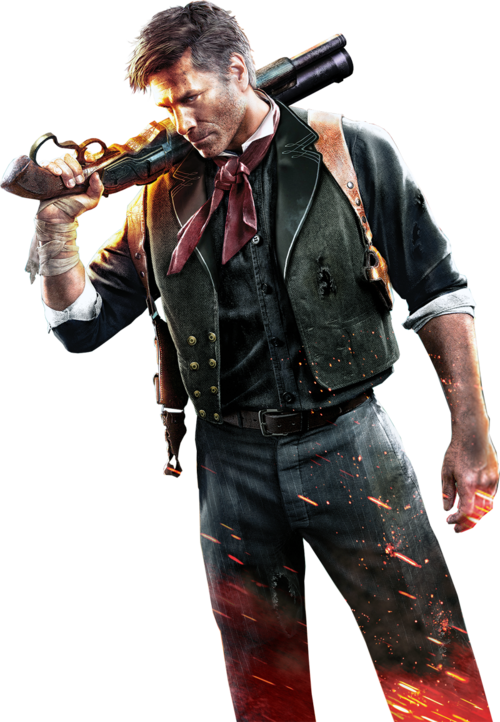 Booker DeWitt Quick Navigation Links:
Character Breakdown: Booker DeWitt
The Booker DeWitt Workout
The Skills of Booker DeWitt
The Depth of Booker DeWitt
Name: Booker DeWitt
Game: Bioshock Infinite
Skills/Attributes:
Skilled marksman with a variety of weapons.
Resourceful.
Acts well under pressure.
Desperate.
Experimental.
Open minded.
Unflappable.
Determined.
Summary: (Note: Booker was suggested for this week's character breakdown on our Facebook page by reader Isaac Heflin.  Thanks, Isaac!)
Booker is a pretty unique character in the shooting genre, in the fact that he's not a super-hyper-alpha-male archetype like you find in the various "Battlefield Medal of Duty" games that are repeated ad nauseum.  Bioshock Infinite itself kind of bucks the whole shooter genre (as its predecessors did) by containing a unique storyline and truly involved characters.  To even further buck the current trends, Infinite is also a beautiful game, filled with bright, vibrant colors and extremely natural human interactions.  Booker exists as both and insider and an outsider of the world of Columbia, and we're going to have an interesting time profiling him this week.
In The Booker DeWitt Workout, we're going to be building lean, functional strength, with an emphasis on upper body strength (for grabbing skylines), explosive movement speed and agility (for maneuvering through gunfights with giant mechanical men and vigor-enhanced crazies), and solid muscular endurance (to carry you through those drawn-out battles and white-knuckle aerial maneuvering).
In The Skills of Booker DeWitt, I'm going to relate some of my personal experiences shooting firearms at an indoor gun range a few weeks ago, and what people who had not really worked with firearms before might not expect about the weapons.  Additionally, we're going to look at being cool under pressure and resourceful in a pinch.
In The Depth of Booker DeWitt, we're going to be peeling back the mind and history of Bioshock's protagonist, and what can drive someone to do the things he does.  We're going to talk about what it's like to be in a point of desperation, and how your decisions in the heat of the moment, or the darkest pits, can decide who you become as a character.
I'm going to try to keep these posts as spoiler-free as possible, for those that haven't finished the game yet, but that's all going to fall through by the time we get to the last post for the week, so steer clear of that one if you haven't finished the game yet!
That's all for today!  Tune in tomorrow for The Booker DeWitt Workout!  If you haven't joined The Champions Guild yet, head on over and sign up now so you can be kept current with what's going on with the blog!  You'll also get two free eBooks written by yours truly.  Check it out!
Also, please don't forget to like the blog on Facebook, and follow on Twitter and Tumblr.  While you're at it, if you enjoyed this post, please share/retweet it to your friends!    As always, remember to live boldly, change the world, and continue to be awesome.
Dan "DaRatmastah" Wallace