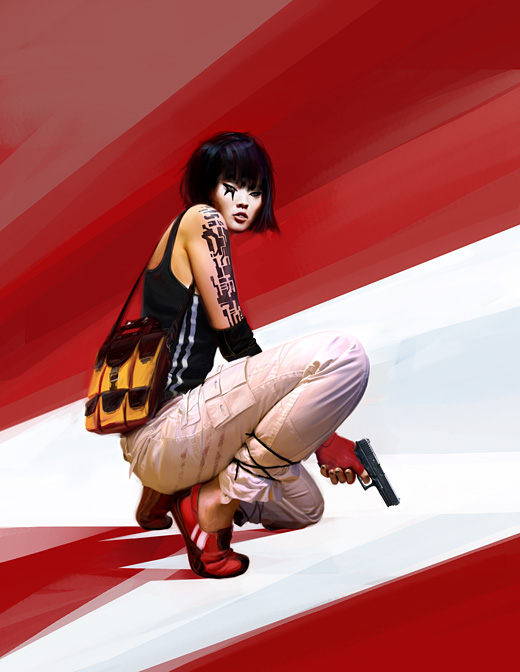 Faith Connors Quick Navigation Links:
Character Breakdown: Faith Connors
The Faith Workout
The Skills of Faith
The Freedom of Faith
Name: Faith Connors
Game: Mirror's Edge
Skills/Attributes:
Skilled Freerunner
Skilled Hand-to-Hand Combatant(particularly disarms)
Decent Marksman
Survivor
Faithful(har har puns)
Summary:  Mirror's Edge is a fun, experimental, and criminally underplayed game.  I find myself constantly hoping for some shred of hope that there will be a sequel of some sort.  The main protagonist, Faith, is an awesome, yet incredibly real character.  She is a "Runner," a secret courier in a totalitarian city, flying under the radar of the governmental regime using extreme parkour across rooftops and urban areas.
In The Faith Workout we're going to be doing a lot of, well, running.  Also quite a bit of bodyweight conditioning and plyometrics.  It's going to be sort of  in the spirit of the Ezio workout, but you'll see some differences, as well.
In The Skills of Faith, we're going to have a parkour-a-palooza.  Seriously though, we've touched on parkour before, but this is going to be basically a full rundown of all the basic skills and vaults you should learn as a beginning traceur, as well as links to resources and communities.
Finally, The Freedom of Faith is going to take a look at what it means to be a freespirited survivor in Faith's predicament, both the pros and the cons of such an existence.  We're also going to take a look at what it means to defy conventional social expectations, and what consequences these can have.
It should be a fun week!  Faith is one of my favorite characters in the gaming universe, and I'm happy to give some love to a somewhat unappreciated game.  Please don't forget to like the blog on Facebook, and follow on Twitter and Tumblr.  While you're at it, if you enjoyed this post, please share/retweet it to your friends!  We'll see you tomorrow, with The Faith Workout! Until then, remember to live boldly, change the world, and continue to be awesome.
Dan "DaRatmastah" Wallace