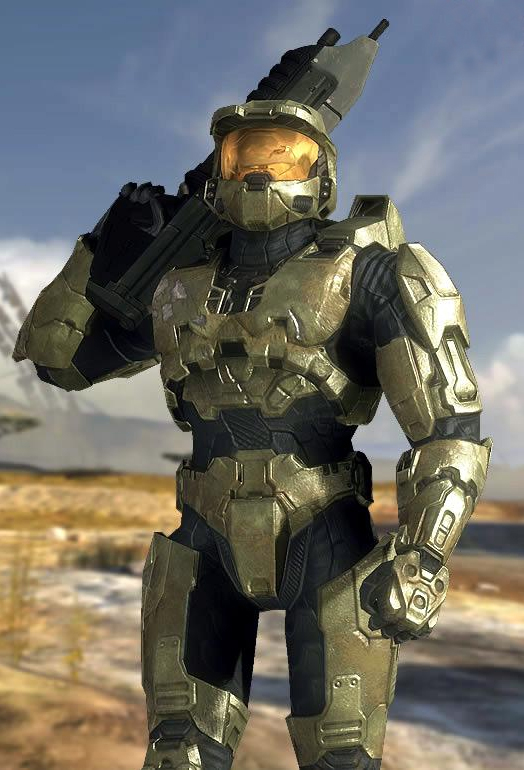 Master Chief Quick Navigation Links:
Character Breakdown: Master Chief
The Master Chief Workout
The Skills of Master Chief
The Solitude of Master Chief
Name: Master Chief "John 117"
Games: Halo series
Skills/Attributes:
Augmented body and skeleton
Strength and agility-enhancing powersuit
Expert marksman
Expert tactician
Strong leader
Dauntless
Resourceful
Summary: Master Chief is arguably the most recognizable and well-known modern-era game character.  The Halo series is one of the most successful ones in gaming, basically single-handedly launching the Xbox brand to stardom.  The mystique surrounding Master Chief and his Spartan compatriots is almost palpable when you talk to fans of the series, and her has inspired millions of gamers the world over to step into his oversized mechanical boots.  This should be fun!
In The Master Chief Workout, we'll be focusing on building both stamina and power.  In The Commander Shepard workout we detailed some military training regimens and requirements.  These will not be sufficient for a Spartan workout, however, because we want to develop something akin to the physical capabilities the full augmented Spartans IIs had.  This means more strength training, in particular, but we still need the Spartan's ability to go forever like some kind of apocalyptic Energizer Bunny.
In The Skills of Master Chief we're going to take a look at the world of genetic augmentations.  We're also going to look at some cool training measures and tweaks to build reflexes, sensory amplification, and mental acuity.  Spartans possessed serious augmentations to their bodies even without their Power Armor, and although that might be off the table for people right now, there's still ways to gain superior versions of the skills you currently have.
Finally, in The Solitude of Master Chief we're going to explore what goes through the head of someone who is arguably the next stage in human evolution, though possibly one of the last of his kind.  The psychological motivators and discrepancies that come from being a Spartan II are hinted at a bit in the books, as well as Halo 4.   The Master Chief sometimes exists in a lonely world, and if you find yourself feeling like this, this is the post you might be most interested in.
Tune in tomorrow to check out the next post in this series, The Master Chief Workout!  Until then, stay healthy, live boldly, and continue to be awesome!
Dan "DaRatmastah" Wallace