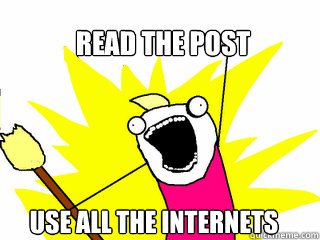 Hey gang!  The grab-bag post for today is going to be all the free things on the internet you can use that you may not know about!  BUT!  Before we get to that, we have another order of business, new quest!
The Call of the Bluebird  –  Check it out!  I think you'll like the completion reward! =D
So then, on to the meat of the matter.  I'll be organizing the links by category, so feel free to hop around and pick and choose what you need!  Remember, we have the whole of the world's knowledge at our disposal on the internet, this is a tool you should use!
Making And Fixing Stuff!
http://www.instructables.com/
http://makeprojects.com/
http://www.ehow.com/
Awesome tutorials, build-alongs, and repairing tips!
Learning a New Language!
http://livemocha.com/
http://fsi-language-courses.org/
http://www.duolingo.com
Learning a new language is both fun and rewarding, these sites are excellent!
Free College Courses!
http://www.openculture.com/freeonlinecourses
https://www.edx.org/
http://oyc.yale.edu/
Free online college courses!
Learn to Code!
http://www.codecademy.com/
http://www.w3schools.com/
CodeAcademy is a great educational resource.  w3schools is more for web-based stuff, and it's more of a reference than a tutorial, but it's still awesome!
Security and Privacy!
http://www.avast.com
https://www.torproject.org/
http://www.hidemyass.com/
Avast is my personal favorite free antivirus, the TOR project helps you remain anonymous online, and HideMyAss is a free web proxy for when you're on a computer that you can't install TOR on.
Health and Wellness!
http://www.myfitnesspal.com/
http://www.nerdfitness.com
MyFitnessPal is a great online calorie counter and food journal tool!  NerdFitness is the only other blog I know of like this one on the internet, and the author/owner, Steve Kamb, is a great guy.  If you like this blog, you'll like that one, too!
Life and Finances!
http://www.thesimpledollar.com/
http://www.lifehacker.com/
http://retailmenot.com
https://www.mint.com/
The Simple Dollar is by far my favorite personal finance and investing blog, and LifeHacker has all kinds of cool stuff about improving your personal efficiency and quality of life.  RetailMeNot is an online comparison shopping and coupon service!  Mint is a personal finance manager and tracker, and a great resource to manage your budget,
Free Stuff!
http://www.reddit.com/r/freebies
http://www.craigslist.com/
r/freebies always has some cool offers available, and if you aren't checking your local Craiglist's free section on a regular basis, you are missing out!
Miscellaneous Awesomeness!
http://www.ted.com/talks
http://www.documentaryheaven.com
http://www.writingexcuses.com/
http://stereopsis.com/flux/
TED talks are freaking awesome.  Heck, a TED talk inspired me to start this blog!(look up Jane McGonigal).  DocumentaryHeaven lets you watch tons of documentaries online, for free.  Writing Excuses is a great podcast series done by bestselling book and webcomic authors about how to improve your writing, or start writing for the first time!  f.lux changes the way your computer monitor screen lights itself during the day and night based upon what natural light would look like.  It helps reduce eyestrain and preserve circadian rhythms!
I hope you can make use of some(or all) of these links.  I know they've made my life much better, and hopefully they'll do the same for you =)  Tomorrow's a new recipe post, so make sure to check it out!  Until then, make sure to like the Facebook page, follow me on Twitter, and go follow the Tumblr as well.  As always, keep being awesome!
Dan "DaRatmastah" Wallace